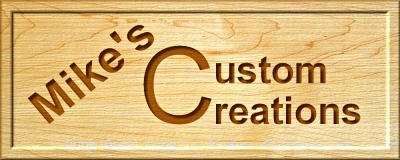 Custom
Wood
(mostly)
Products
Contact Me
If you have any questions, requests, or suggestions, you can contact me in many different ways, like an email, a phone call, a text message, by fax, postal mail, drop-in, or the form below, and you can even try telepathically if you wish.

To place a custom order, please use my "Custom Order Form".
* * * Phone
1-613-206-2872 or toll free @ 1-888-235-7513
* * * Text Message
text to 613-206-2872 or text via email to 6132062872@msg.telus.com
* * * Fax
send fax to 18335241979
* * * Postal Mail
Mike's Custom Creations
18 Osborne Road RR3,
Athens, ON
K0E 1B0
* * * Workshop (aka my home)
(by appointment only)
* * * Form
Include a way for me to get back to you if you want a reply.
* * * Telepathically
Try it if you want, but I may not get the message. ;-)
Website Content ©2017